Jason in Eureka, an epic adventure in search of golden fleece and other local treasures. Sanctuary Stage partnered with Los Angeles based Cornerstone Theater Company in this modern Eureka-specific retelling of the mythic adventures of Jason and his epic quest for the Golden Fleece.

Los Angeles-based, nationally
renowned Cornerstone Theater
Company was drawn to
do a project in Eureka at the suggestion of
Sanctuary Stage's Artistic Director Tinamarie
Ivey. Upon visiting, Cornerstone found
the area all the elements needed for a
successful community collaboratio
n: rich history, present-d
ay vitality and passionate
involved citizens. Playwright Peter Ho
ward has met with numerous individuals and
organizations seeking out the perspectives of
area residents. Visiting Eureka over the
past eight months, Howard has engaged in conver
sations with retirees at the Humboldt
Senior Resource Center, Eureka High Schoo
l students, Wiyot representatives, veterans
and experts in Victorian home restorati
on, among others. Community partner
organizations for GOLDEN FLEECE: JASON
IN EUREKA are The Ink People Center
for the Arts, Sanctuary Stage and The Blue Ox Millworks and Historical Park.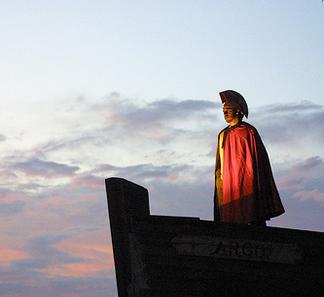 Meet Jason, a young warrior with physical and emotional wounds, who has taken to sleeping on the lawn of a west side Eureka Victorian house. Here, two stories unfold: the epic adventures of Jason's quest to capture the fabled Golden Fleece, and the local reactions to this mysterious stranger's presence in an eclectic Eureka neighborhood. Playwright Peter Howard mixes elements of the classic tale of Jason & the Argonauts with realities of present-day Eureka, blurring the lines between mythic heroes and the local heroes that exist every day around us.